In today's world of technology, On-Page SEO steps have become a fundamental process to achieve a higher ranking in the results of a search engine.
For every business, a website is a vital part. Thus, this website has also become the pivot of any type of Search Engine Optimization process.
If a website is not optimized correctly, it will not be able to bring more traffic from the various search engines. Furthermore, SEO can help you with lead generation and branding.
We need to tweak your website so that you can make sure your website is visible to Google and every other search engine. In this of FK Digital, we have discussed some very important points and facts about an On-Page SEO.
If you follow everything we have written in this article, you can quickly improve the ranking of the new posts on the search engines.
What is On-Page SEO?
At present, there must be a doubt that everyone is facing – What is SEO?
On-Page SEO, also known as on-site SEO, is the method of optimizing the website or web page content to be visible to the users and helps the web page rank higher in the different search engines.
On-page SEO is important because it affects how your website appears to potential customers looking for information on your business. On-page SEO is a key part of any online marketing campaign. However, many people struggle to find effective ways to improve their website's visibility and rankings. Our experts suggest that impotence in on-page SEO may be the root cause of many online problems.
There are various On-Page SEO practices, including optimizing the different titles and tags, URLs, and internal links.
Why is On-Page SEO important?     
The On-Page SEO has become very important because it provides some signals to search engines so that they can understand everything about your content.
It helps the search engines like Google to bring your website to the notice of the audience that needs to have a look at your website.
If the search engine cannot read and understand your website's content, it will not be possible to suggest your website to the audience whose search results may match it.
The search engine tries to link the keywords and the items that the user searches for. So link building is one of the most effective strategies in On-Page SEO.
Different On-Page Search Engine Optimization Techniques  
In a constantly-changing online world, businesses must be as well-oiled as possible to stay afloat. And as the saying goes, one of the biggest ways to do that is by ensuring your website ranks high in search engines. This means ensuring your site is well-optimized and has a good online presence. If a company wants to maintain its competitive edge in the digital marketplace, it has to give substantial attention to search engine optimization (SEO).
Here we have made a list of all the techniques you can use to make your website rank better in the search engine.
● Choose SEO-Friendly URLs
While you choose your domain and name the pages of your website, you must keep the Google bots and the users in your mind. For off-page SEO techniques, this type of SEO-friendly URL is not necessary.
The first point that everyone notices are the domain. Keep in mind that the name given to every page will show up as a part of the URL. Therefore, your domain must always contain the keywords used by the users.
These are some examples of good URLs:
● Publish some Quality Content
Your content must be original, unique, and well researched. Always perform proper keyword research before you publish your content on your website.
Your content must not be copied from somewhere else. Furthermore, it must include sufficient text elements; if you add any audio or visual content, it must be accompanied by some text that explains your content.
Your content must also not be biased if your content is based on a particular topic. Also, the content must be able to satisfy the intent of the search that the user keeps. Failure to prepare content that can satisfy the user will reduce your website's ranking.
● Headings and Content Formatting
Your website must be maintained in a proper format. For example, various headings and subheadings are designed using the H1, H2, and H3 tags. Always use the proper way of including a heading in your content. 
You must always avoid using any single word in a heading. Instead, a few subheadings must determine the keywords used in your content. Also, the content must be formatted appropriately.
Use some bold and underlined text to show the important part of a page. Use a proper font for the text, spacing between the paragraphs, and split them into some small paragraphs.
● Use Some Internal Links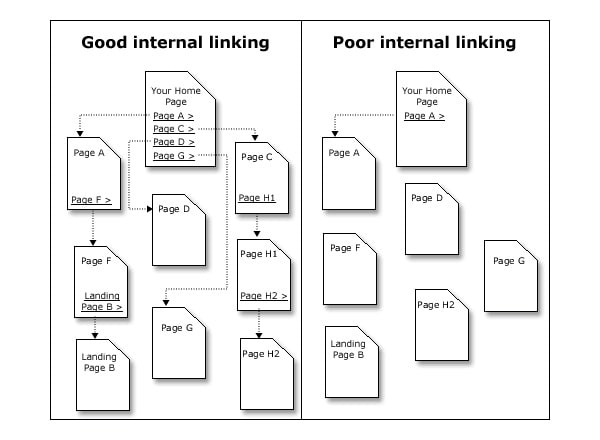 The internal links help the users navigate other websites, which works very well for SEO.
You can use hyperlinks to redirect the user to another page that he may find more relevant for his search results. A search engine also acts as a human visitor who analyzes all the links and then provides a ranking to your website. So, keep in mind to use the relevant links to help the readers read some other relevant content.
● Use Keywords in the Meta-Tags
After looking at your website's domain, the next thing the users notice is the meta-tags or the titles and descriptions of your content.
The title and the description, shown in every search result below the website link, are known as the meta-tags. Proper keyword research is significant before using these tags in your content.
These tags help the users determine whether your site is worth looking at. You must never forget to use unique and innovative meta-tags to get your content ranked better. Use them as often as possible but in a way that makes them sound natural.
● Make them Adaptive to Mobile Users
Currently, most people have no time to sit on a desktop and search for some topic. Moreover, most job is done on mobile; therefore, people find it easier to search for a topic on a mobile phone rather than on a laptop or desktop.
In 2015, Google started giving some extra advantages to websites that can be used smoothly from a mobile.
If you wish your site to rank better in the search engine, then optimizing it for mobile users is mandatory. The more your website is optimized for mobile users, the more traffic it will attract.
● Use some Multimedia Options
The better the presentation, the more traffic it will attract. You can use some images and graphical designs to make the front end of your website look more attractive.
There is only one drawback which is an issue with the images used on the website. That is, the search engine sometimes fails to understand the images and, as a result, increases the website's loading time.
But if you follow some exact techniques, you can quickly solve the problem. First, always use an original image that already exists on the internet. Optimize the size of the image to make it smaller.
Use some descriptive filename and an alternative description for the image.
● Use some External Links
Any link pointing to a page not a part of your website is referred to as an external link. This step is not necessary for off-page SEO techniques.
The backlinks are beneficial for search engine optimization, as are the external links. In addition, the external links for some other related pages help Google figure out the topic that the page has to offer.
You need to use the external links and then mail the websites to keep them informed that you have linked with them. In this manner, you can also build an excellent relationship with the admins of some other websites.
This does not mean you can use external links whenever and wherever you like. Always link with a trusted website only when it provides some valuable content to the user.
● Include your Contact Information
Your contact information can be pretty helpful for the users if you are running a local business. So, use some words which are based on your location throughout the content.
With the help of this information, the search engine reveals your website to the users who can be detected to be within your region. It brings you more traffic not only on your website but also in the offline mode as the users can then directly contact you if they need something.
Even if your business does not have any specific location, it is imperative to show your contact information on every possible page of your website.
This is going to help every user to reach you more efficiently and will also improve your credibility.
Conclusion
Any website needs a better ranking on any search engine, be it Google, Yahoo, or Mozilla. And if you want your website to rank better, you must follow the on-page SEO steps from FK Digital discussed above.
These are not the only on-page SEO ranking factors that will help your website rank better, but these are some of the top tips and techniques that will help your website or web page attract more visitors.